wundertax is 2023's Top Tax App!
"This tax return is almost like magic" - This is how WiWo described wundertax when granting the title of top tax app.
We have reason to celebrate! Once again, wundertax was named top tax app of the year after the renowned WirtschaftsWoche magazine conducted a major tax software test. Sixteen possible programs were put to the test – and wundertax was declared the best tool for filing your German tax return.
"wundertax offers an especially quick tax return."
WiWo concluded that "wundertax offers an especially quick tax return" and we intend to keep that promise. The average tax return submission with wundertax takes only 17 minutes, regardless of whether the submission is required or completely voluntary.
"This service is noticeably different from submitting your tax return via Elster and leads you faster to your goal."
By using the interview question-answer method, wundertax is able to guide students, employees, and retirees step-by-step to their submission. The tax app also offers a direct connection to the Elster interface, allowing you to quickly and easily submit your tax return to your local tax office without any outside help. WiWo confirms that what's striking about wundertax is that it "leads you quicker to your goal by offering many shortcuts such as previous year's values and lump sums that are accepted directly by the tax office."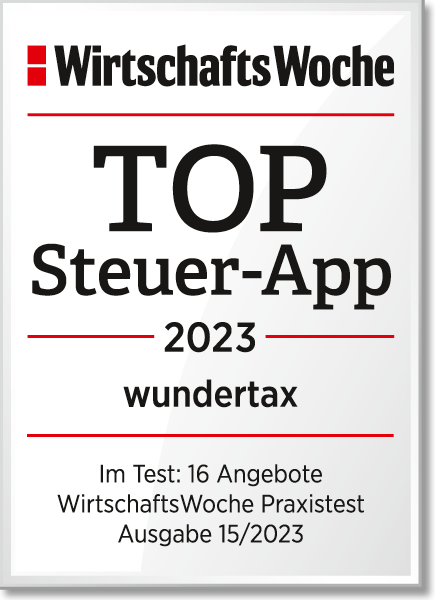 "Takes the work off your shoulders and speeds up the tax return process."
wundertax offers a pleasant alternative to the tax office's tax program, Elster. WirtschaftsWoche shares this opinion: "when compared with the Elster Portal, paid options usually offer a more convenient alternative." Tax consultants are usually quite expensive – by spending €34.99 to file a quick and easy tax return with wundertax, you save yourself time, work, and get your money's worth!
So what are you waiting for? File your German tax return with wundertax today!